If you've seen the news lately you know that shipping and supply chain issues are impacting every industry, and ours is no exception. But, since the start of COVID, we've been developing strategies to mitigate how these issues affect production and, ultimately, our ability to get you out on the water.
Managing Shipping
A very high percentage of the products we manufacture are oversized, so managing shipping has always been a big part of what our logistics staff does. But, it has become even more challenging in the past 18 months.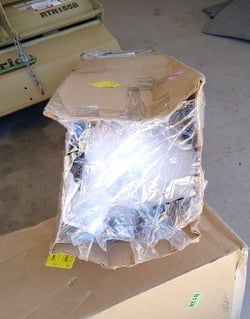 We've had higher incidences of damaged and lost items, and, sadly, the customer support from some carriers has gone the way of the service - it's been on the decline. It's frustrating for everyone involved. The cost of providing shipping services has been on the rise, there's a shortage of drivers, and there's been a glut of online shopping, so it is the perfect storm for a bad shipping experience. Still, we want our products to get to you, undamaged, in a reasonable amount of time, for a fair price. We're pretty sure you want the same, and we do our best to select reputable carriers, but unfortunately, once a box or pallet gets loaded onto a truck, we no longer have any control over the process. So when something gets lost or damaged, it's hard not to get frustrated, or even angry. To help reduce the stress associated with shipping, we've got a couple of recommendations:
Order early: You'll see this is a repeating theme across all industries, but when you are ordering something custom-built and oversized, it is especially important. We'll talk more about this when addressing supply chain issues, but normal lead times are out the window and won't be back for a while. So, we'll say it again: ORDER EARLY.
Purchase shipping insurance: On pondking.com, we have added shipping insurance as an option at check-out through Route. Route allows you to track your packages (all your packages, not just shipments from Pond King) and provides insurance against items lost, stolen, or damaged in transit. There is a short waiting period for them to process the claim, but they seem to be good about reimbursement (we're still early in our relationship with Route, so we'll keep an eye on this). We strongly encourage you to add this to any item you order from us online that we aren't going to deliver ourselves.
Inspect your packages: When you order a Pond King product that ships via freight (bulk habitat, floating fish feeder, Rebel, Patriot, DIY Boat Kit, Floating Dock Kit), it will be shipped on a pallet and you will need to sign for it. Do NOT sign for anything until you have inspected it. If you accept a shipment that has sustained damage, you cannot make a claim for the damage, and there's nothing we'll be able to do to help you, so it is very important that you examine your shipment BEFORE accepting it. Here's how to properly receive your Pond King products:

Inspect all boxes/pallets and make sure you have all the pieces to your order.

Check the bill of lading from the delivery company to make sure you have all your boxes/pallets.

Report any missing boxes or pallets to the driver and make a note of it on the bill of lading.

Next, inspect all the boxes/pallets for anything that looks like damage. If there is a punctured or smashed box/pallet, open it, and make sure that there is no damage.
In the event of damage, you must report it to the driver and make note of the damage on the bill of lading. If you don't record the damage on the bill of lading, you are confirming that you received the goods in perfect condition, and you release the shipping company of any liability on the shipment. We try to only work with the most reputable shippers, but it is important to remember, they do not work for us on any level, so once your product is placed in the hands of a 3rd party shipper, Pond King is no longer responsible for that product.
Managing Supply Chain Issues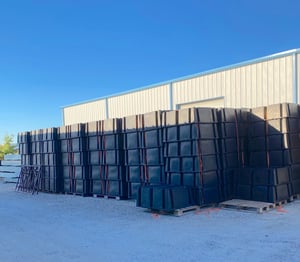 Supply chain issues affect our raw material inventory and costs, which impact our final product inventory and price. We've worked very hard to manage supply chain issues from the very get-go by "stocking up" on materials at the onset of COVID. This helps us keep our production rate going, but it also helps with pricing. The cost of construction materials has been on a steady climb so by buying ahead we are hedging against inflation. We've been able to stay ahead of the curve in many areas. Our boat and dock lead times have been impacted more by the unprecedented demand but, we haven't been able to overcome all supply chain issues. Some materials, like furniture and outboard motors, have just been unattainable.
The issue with furniture stems from a foam shortage that started with the unprecedented winter storms that hit the south early in 2021, causing shutdowns of 5 chemical plants that produce the primary chemical in foam. The shutdowns, storm damage, staffing issues created by COVID and increased demand have made it nearly impossible for foam manufacturers to get caught up, resulting in 60 to 90-day and even year-long delays in finished products containing foam.
The issue with outboard motors started with COVID when the boat industry experienced the highest demand it has seen in the past 13 years. But then factories in Japan were shut down for months, which ended up putting several of the parts suppliers out of business. Outboard motor manufacturers have been struggling to keep up with the demand since. And, with more new boat owners in the market than ever, there isn't an end in sight.
What You Can Do to Mitigate Shipping and Supply Chain Issues
So, what does that all mean for you? With regard to shipping, the best tactics are to order early and add insurance whenever you can. As far as supply chain issues go, it's a little more complex. Here are a couple of tactics that are more product-specific:
If you are shopping for a boat, consider avoiding our models that have bench seating because that type of seating has a very, very long lead time (this mostly affects the Lil' Cruiser). And, consider forgoing a new outboard motor. Instead, opt for a trolling motor set-up, or consider looking for a used or refurbished option.
As far as docks go, we are limited by the number of docks we can install each week, which can be severely impacted by weather. Given the unprecedented high demand, employee absences due to COVID, and the weeks of rain we had earlier this summer, we are currently (as of November 2021) looking at a 5-month wait for installed docks. Even though we are ordering larger quantities than usual, raw material prices are changing weekly so we are currently asking for a 50% deposit so we can buy the materials for your dock when you place your order. That way, we can guarantee the final installation price.
If you have any questions about how Pond King is managing shipping and supply chain issues, or to find out more about our lead times and shipping policies, just give us a call or email us at info@pondking.com.
In the meantime, we hope we'll see y'all down at the pond.