We don't settle for "good enough" when it comes to what material we choose to put on top of our floating docks. With all of the boat dock decking choices and manufacturers out there, we did our homework and found a company with a lot of the same beliefs and values we have when it comes to a quality product and getting what you pay for. If you are building your own dock, consider TimberTech®. We think their composite decking is the best material for dock decking on the market.
Natural Wood vs. Composite
When designing the DIY Floating Dock Kits, Floating Aluminum Docks and Steel Floating Docks, we considered all dock materials and decking companies. When comparing Composite decking to natural wood, it was a no brainer to choose composite decking materials for our floating docks, and TimberTech® stood out above the rest. Here's why:
Natural Wood

H

ighly vulnerable to mold, mildew, and rot

Contributes to deforestation

Will warp, crack, and splinter over time

Very little or no warranty

Costly maintenance of regular staining

Life span is only 10-15 years from installation
Composite Decking by TimberTech®

Tough composite Cap – Protected from the elements

Easy to Maintain – Just the occasional wash & rinse

Beautifully Sustained Colors – 25 year fade and stain warranty

Remarkable Strong and Resilient

Lighter weight than the Competition

Long-Time Value – The decking will pay for itself over its lifetime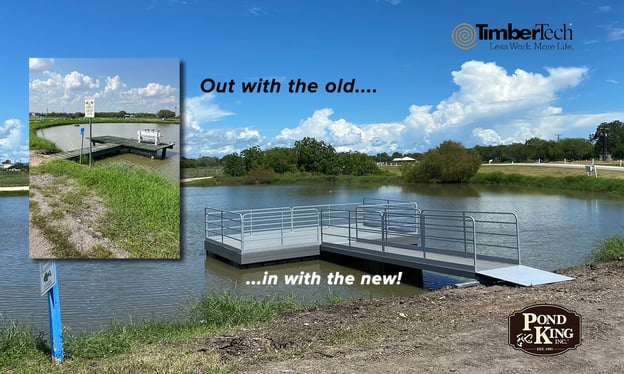 Why TimberTech®?
TimberTech® is a USA company based out of Wilmington, Ohio. As we mentioned earlier, they have the same beliefs we do. We want our products to look good, and last forever (or at least as close to it as possible!) Taken directly from their website, "As our name implies, we use technology to engineer environmentally-friendly, long-lasting, and aesthetically-pleasing decking products."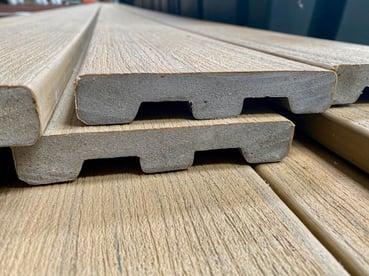 TimberTech® has the most natural-looking design options that deliver the most realistic wood look with natural color blending. With TimberTech®, you get the full aesthetic experience of wood without the laborious, costly, and constant upkeep required with lumber. With their protective cap technology, you get protection from the elements to safeguard your decking boards from mold, mildew, and moisture damage. The dock decking is also engineered to resist stains, scratches and fading. You pay a little bit more for the composite dock decking up front, but it will last so much longer that it will pay for itself over that time.
Staying Green
TimberTech®'s capped composite decking boards use up to 80% recycled material – with most materials falling into the hard-to-recycle category. Last year they diverted roughly 500 million pounds of waste and scrap from ending up in landfills. They have saved over 3 million trees since 2001. By using TimberTech® dock decking for our floating docks we:
Contribute to saving forests
Help cutdown on landfill waste
Conserve water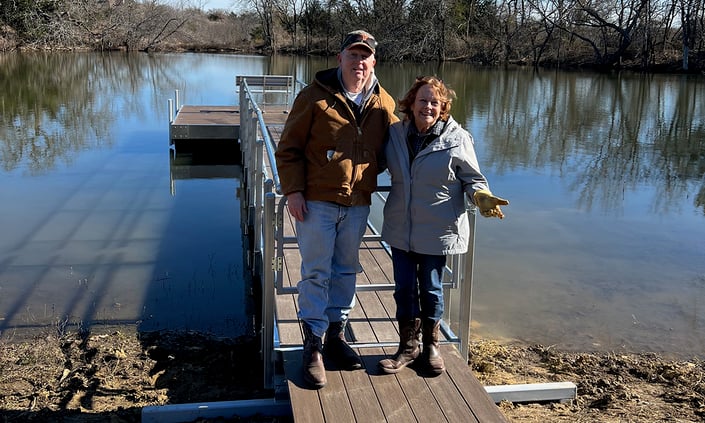 We build all our floating docks to last for years with little-to-no maintenance, so going with TimberTech® composite dock decking was an easy choice for us. You should be able to spend time enjoying your floating dock knowing that the materials put into it will last for generations to come. Make memories and relax instead of spending more money and time on upkeep and maintenance – choose TimberTech® composite decking.
We'll see ya'll down at the pond!