Pond King, Inc. builds two types of floating docks made using aluminum frames; the Aluminum Floating Dock and the Dock Kit (pictured above). If you'd like to learn more about why you might choose a floating dock instead of a fixed pier, check out our blog post "Docks for Ponds and Lakes." But to learn about the difference between our two types of aluminum docks, read on.

Floating Dock Kits
We build our Dock Kits on a welded, all-aluminum tubular frame with channel cross-bracing.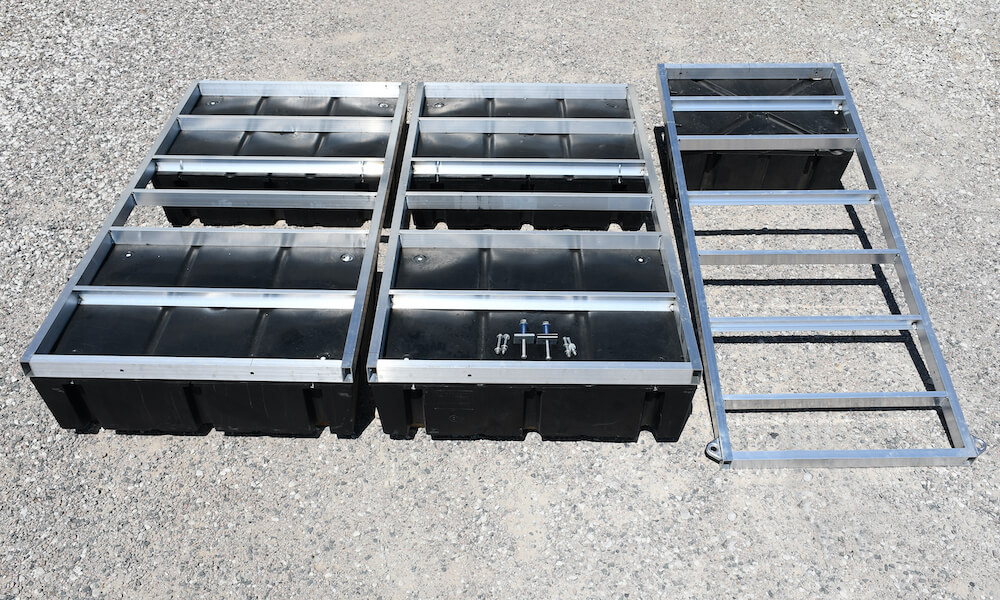 The "deck" portion of the dock is made from 4' x 7' 10" sections which you'll bolt together on-site to create either an 8' x 7'10" deck or a 12' x 7' 10" deck. You can opt for a 7' 10" or 15' 8" long walkway. Each section will come with the appropriate number of floats already attached, and you can order your Dock Kit with or without the TimberTech decking. If you opt for the dock kit with decking, all you have to do is bolt the sections together and attach the walkway to the base. If you get the kit without decking, you'll bolt the frame and walkway together, add the decking and then connect the walkway to the base.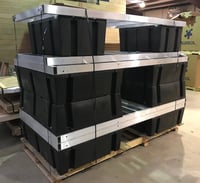 We designed the Dock Kits so they can be shipped anywhere in the continental U.S. where an 18-wheeler can get to. The kits are shipped on large pallets (95"x48") and their weight ranges from 400 - 1500 pounds depending on the size, so you'll need some heavy-duty equipment to offload the pallets. We only offer the Dock Kits in relatively small sizes (up to 12'x8' deck with a 16' walkway). Since the deck bolts to the walkway and the walkway bolts to a base that is set in concrete, the Dock Kits are essentially a single piece once assembled and can only accommodate water elevation changes of less than 2-feet. As a result, the Dock Kits are ideal for smaller bodies of water that don't have a lot of wave action or current, stay pretty much full all the time, and will be used by only 2 to 4 people at a time. The accessories available on the Dock Kits include:
Boat cleats and/or bumpers

Swim ladder (fixed or hinged)
The Dock Kits are a convenient and affordable way to get a floating dock for your backyard pond. But, if you need a larger dock, or the water in your pond fluctuates more than 2', you'll want to consider our Aluminum Floating Dock.
Aluminum Floating Docks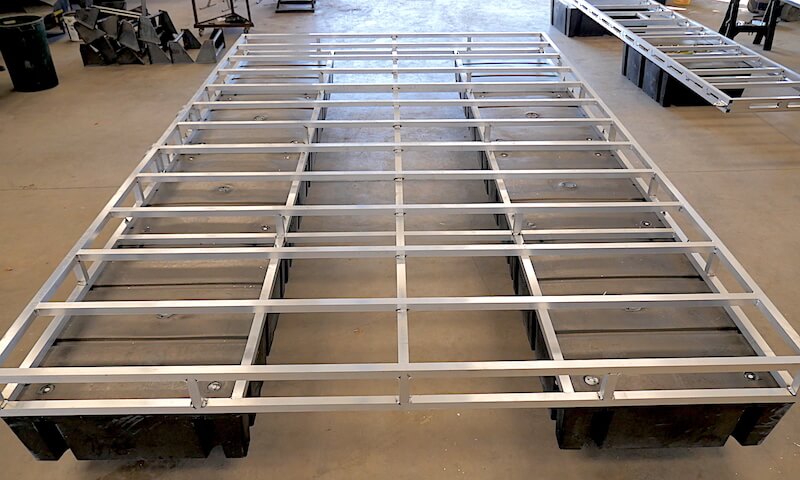 We build our Aluminum-framed Floating Docks using a stacked, double frame of welded 1.5-inch square tubing, which we also use for the cross-bracing. The additional material creates a stiffer sub-structure that can hold more weight and withstand more water motion and weather. These docks always come decked with TimberTech composite deck boards, and we only use hot-dipped, galvanized fasteners and components. The floats for all of our docks are encapsulated with a polyethylene shell with UV inhibitors. The walkway is bolted to the base, but a hinge between the walkway and the deck allows the Aluminum-framed dock to rise and fall with water elevation changes up to 4 feet.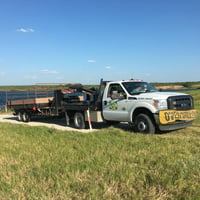 Suppose we are delivering and installing your aluminum floating dock. In that case, we'll build it out entirely at our facility in Gainesville, Texas, and drive it to your location on a large flatbed trailer. We'll set the base at the shoreline by driving a series of four connected stakes into the ground. Next, we'll back the trailer into your pond or lake to float the dock and walkway off. Then, we'll attach the walkway to the base and the deck to the walkway. There is a hinge between the walkway and the deck, so these docks can accommodate up to 4 feet of water elevation changes.
Now, suppose you live too far away for us to deliver and install the dock. In that case, we can build the Aluminum Floating Dock so that it can ship in modules that you'll bolt together. In this self-install scenario, as with the Dock Kits, you would need some type of heavy-duty equipment to offload the dock from an 18-wheeler and get it to your installation site.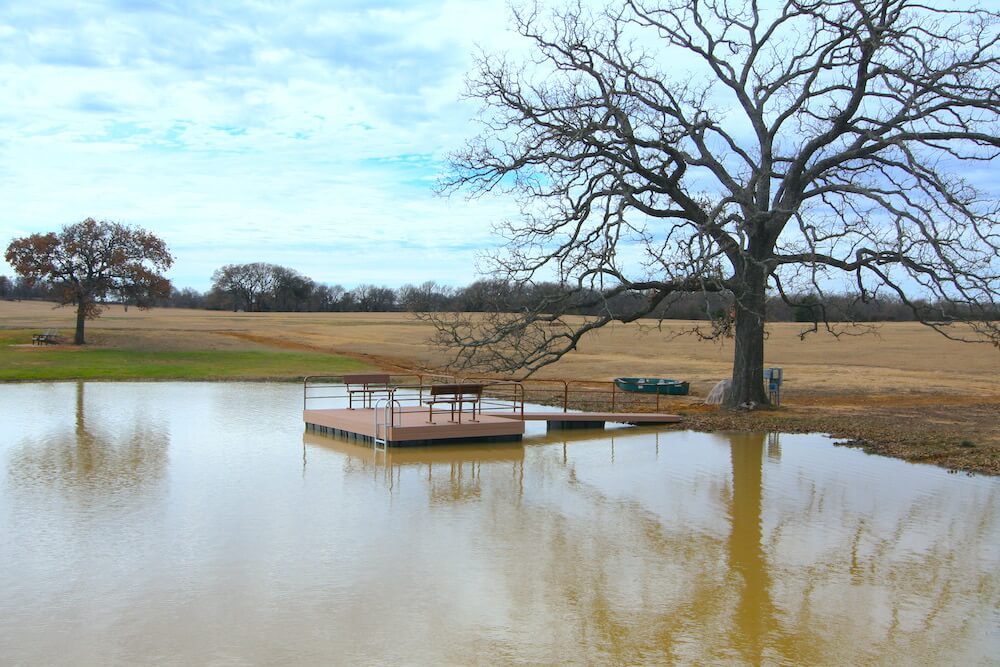 You can customize your Aluminum Floating Dock with the following accessories:
Railing options for the deck and walkway

4' Aluminum dock bench (raw or powder coated)

Aluminum dock table (raw or powder coated)

Umbrella

Boat cleats and/or bumpers

Flush-mount rod holders

Swim ladder (fixed or hinged)

Tempress ProBax seat

Mounted fish feeder
Like the Dock Kits, we can ship the Aluminum-framed Floating Docks to any location in the continental U.S., but remember, they will ship via freight on very heavy pallets, so you'll need a place where an 18-wheeler can get in and equipment to offload the modules. But, if you live within a half-day drive of Pond King, we can deliver and install the dock for you. You can choose from four deck sizes (10'x8', 12'x10', 16'x10', and 20'x10') and two different walkway lengths (10' or 20'). The largest Aluminum-framed Floating Dock we offer can accommodate up to 8 people. These docks are a great choice for any pond or lake where the water elevations don't fluctuate more than 4 feet.
If you need more help deciding which of these two docks is suitable for you, don't hesitate to give us a call or shoot us an email. If you live in Texas and need a dock that will handle water elevation changes up to 10', check out our Standard Steel-framed Floating Docks. And, if you want an awning, look into our Deluxe Steel-Framed Floating Docks.
We hope to see y'all down at the pond!