With Halloween behind us and Thanksgiving right around the corner, it's hard not to be thinking about Christmas. While we aren't a big fan of commercializing the birth of Christ, we do believe in looking for ways to help you get more from your time down at the pond. So, grab a cup of hot cocoa, put your feet up and relax while we share a few of our favorite Christmas gift ideas.

For the angler on your list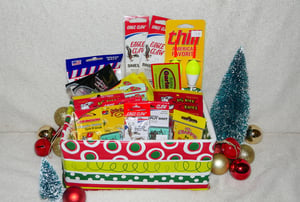 Tackle Kits: Every fisherman (or woman) we know is always looking for lures that will put fish on their line - not just take up room in the tackle box. We offer several different lure kits that have been assembled by our Lake Pro Guides and Staffers - anglers who are out on the water more than 200 days a year - all with that single goal in mind. If you need something more specific, give us a call. We will put together a lake, species, and season specific kit just for you.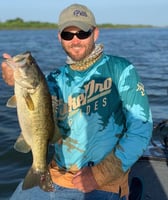 Guided Fishing Experiences, from $9.99: We haven't met an angler that doesn't love an outing with a guide to help them land their personal best. If you are on sticking to a Christmas budget this year, a very affordable way to do this is with Lake Pro Guides, our online, on-demand fishing report service. Lake Pro Guides Fishing Reports are comprehensive and can be used at their convenience. Or, if money is less of a concern, a half-day outing with a guide on their favorite lake never fails to please.
For the nature lover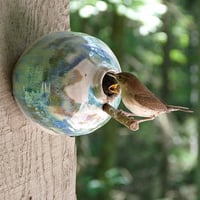 Ceramic Wren House, $59: We love this little bird house by ceramicist Erik Hertz. The wren house has a small opening that offers an inviting shelter to many varieties of bug-eating birds, like finches and wrens, while turning away larger, predatory species. And, instead of the traditional boxy shape, this little rounded refuge is both a work of art and a natural addition to the wooded landscape.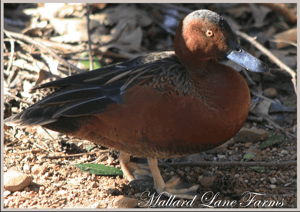 Wild Waterfowl, starting at $125 a pair: Give a gift that will remind them of you for years to come; a pair of ducks, swans, pheasants or doves. You'll need to look at the rules and regulations for the state where the birds will finally land, but most states allow keeping these birds for personal viewing. We have several on our demo-pond, and they provide hours of entertainment. This is a truly unique gift for the nature lover in your life. You can look for a reputable dealer near you, or check out this small hobby farm we found in Western Tennessee; Mallard Lane Farms.
For the chef on your list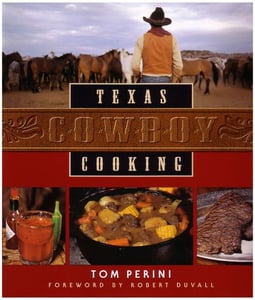 Texas Cowboy Cooking, $24.95: There a lots of good cookbooks out there for the chef on your list, but we love this one. With stunning photography, a forward from Robert Duvall, and written by Tom Perini, this encyclopedia of enticing range recipes served with a twist of cattle folklore is so well done, it makes a great coffee-table book, too. It is loaded with recipes to help you get the best from your beef, dozens of down home Texas favorites plus recipes from the Perini Ranch Steakhouse in Buffalo Gap, Texas. You can find it on Amazon, but we picked up our copy at the The George W. Bush Presidential Center in Dallas, which is especially fun to visit around the holidays.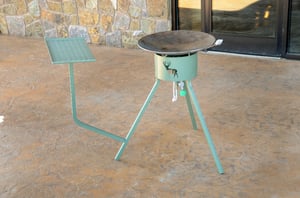 Fajita Cooker, $295: With the Pond King Fajita Cooker, the chef on your list can make great food just about anywhere. This handcrafted outdoor fryer can be used to fry up fajitas, shrimp, catfish, or any type of stir fry. The powder coated steel frame and diamond plate tray breakdown easily so you can take this with you anywhere there's a party. It cooks hot and fast and includes the stand, 12x24" tray with utensil hooks, a 22" wok disc, and a gas hose with regulator. We only have a limited quantity, and once we're out, we won't have these again until next Christmas.
Gifts for the pond owner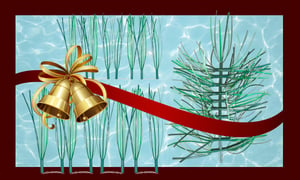 Holiday Honey Hole Habitat Bundle, $199: Are you looking for a gift for someone with a pond on their property? Are they trying to grow trophy-class bass? Then, you can't go wrong with Artificial Fish Habitat. For this Christmas, we've put together an artificial fish habitat starter kit that is ideal for new tanks with very little cover, as well as established fisheries. If you were to buy all three of these separately, the cost would be $257, but you'll save nearly 30% when you buy the Holiday Honey Hole Habitat Bundle. This kit is only available through December 15 and includes:
Two Honey Hole Grass, which will help promote baitfish production and survival by providing cover in water 4 to 6 feet deep,

One Honey Hole Brush which offers cover for intermediary fish as they venture into deeper water.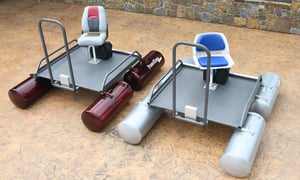 Rebel Modular Pontoon Fishing Boat, $1399: Imagine the look on their face when they get a new pontoon boat under the tree! The Rebel is Pond King's one-man, modular fishing pontoon boat that ships via U.P.S. ground in three boxes that you can wrap up and stick a big, fat bow on! Make it a very Merry Christmas present when you upgrade the Rebel to the aluminum deck and opt for the mahogany powder-coated pontoons (just like the ones we built for Blake Shelton). Because these boats are custom made, we can't promise Christmas delivery if you order after Thanksgiving.
For the person who has everything
If you are shopping for someone who has everything, consider making a donation to a cause that is important to them.
One of our favorite national charities is The Gary Sinise Foundation. This foundation serves our nation by honoring its defenders, veterans, first responders, their families, and those in need. Perhaps one of the most humble celebrity advocates for veterans and first responders, we think Gary Sinise said it best when he said: "While we can never do enough to show gratitude to our nation's defenders, we can always do a little more." The foundation provides lots of ways to contribute, and when you are ready, you can make your donation here.
Of course, you should look for a charity that is important to the person you are shopping for. It may be easier to make a big impact on the behalf of your loved one when you donate to a local organization. We always try to help out the Sacred Heart Catholic Church Food Pantry in Muenster and the Loreto House in Denton. And you are of course, welcome to support them too, but you may want to do a google search for organizations that are doing good work in your community. If you can't afford a financial contribution, consider volunteering with the person on your Christmas list.
We hope this list helps makes Christmas shopping a little less stressful, and maybe even inspires some great gift giving ideas.
Merry Christmas from your friends at Pond King.