Pontoon boats are some of the most popular boats on the water as they are extremely versatile and can provide a great amount of space and comfort. However, the process of deciding on which pontoon boat is right for you can feel overwhelming since there are so many options in a variety of price ranges. Since buying a pontoon boat is a big investment in both time and money, it is important that you understand your boating goals, the different types of pontoon boats, and the factors that go into the overall price of a new boat.


Pontoon boats come in a broad range of sizes and prices, but what is the difference between one pontoon boat over another? The answer is all about your needs and budget. While there are many factors that can affect price (such as size or materials), your boating goals should be kept at the forefront of your mind while shopping for a new boat and assessing what you will need to spend to satisfy your needs.
What is your boating goal?

The first thing to think about when buying a pontoon boat is deciding what you'll be using it for. Your personal boating goals are going to be the biggest factor in the price of your pontoon boat since this will directly affect your choice on boat size and the accessories that will be necessary to meet these goals. For example, if you just want a cruising vessel to take your family and friends out on, your considerations may be different than if you were seeking a fishing boat.

Goal 1: Cruising a lake with family and friends

If your goal is to buy a pontoon boat to cruise a pond or lake with your family and friends you will need to prioritize the boat size and comfort. As a simplified rule of thumb, the price of the pontoon boat will go up as they get bigger. However, since this will just be a cruising vessel, you may not need to splurge on high end accessories like the fastest horsepower motor. In this scenario, you will need to consider:

Will I need a canopy?
How many seats will I need to fit everybody?
How much maintenance do I want to put into the boat?
Will I be towing this to a local lake or will it live on my personal pond?
How big is the body of water I will be boating on?

Depending on your answers to these questions, you may end up spending anywhere between $15,000-$100,000+ on a pontoon boat. As you add more space and accessories, the price will increase.

Goal 2: Fishing alone or with friends

Pontoon boats make great fishing vessels due to their shallow draft giving you the ability to fish in shallow or deep waters and hit those hard to reach places. Depending on who you are fishing with, pontoon boats for fishing boats can be as cheap as $1,500 and expensive as $10,000. As previously mentioned, the size of the boat plays a huge factor in the price of the boat. If you are looking for a mini pontoon boat that seats up to two people, your boat will likely be under $10,000 for a high-quality fishing boat.

Goal 3: Water sports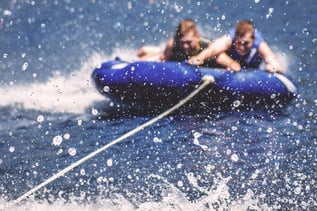 Pontoon boats are also great vessels for water sports – tubing, waterskiing, you name it. However, to perform these sports efficiently and safely, your boat needs to be able to go at least 20-26 mph. Your pontoon boat will need at least a 70-90 horsepower engine to create effective wake and allow the water skier to stand up. If you are more experienced, you can go higher but generally this is a good place to start. If water sports are part of your goals you will need to consider additional costs like a swim ladder, high horsepower engine, strong towing line, and all the safety measures that go along with these types of activities.


Pontoon boats for different bodies of water

There are many types of pontoon boats and each one is designed to handle a different body of water. For example, if you're looking for a fishing boat, you can choose from many different models that will give you the ability to fish in shallow or deep waters. You'll also have options when it comes to whether or not you want motorized or non-motorized versions. If you're boating on your small private pond, you may realistically only be able to get a mini pontoon boat.

The same goes for boats meant for recreation. If you live near the ocean where there are strong currents, then it's important that your pontoon boat is made with materials that can withstand these conditions so they won't be damaged during use over time.

New or used?
Another thing that affects how much your pontoon boat will cost is whether you're buying new or used. The price differences can be dramatic — a new pontoon boat may be double the price of a used one!

You can find some decent deals on secondhand boats if you look hard enough, and most people who sell their old boats do so because they need to get rid of them for one reason or another. The best part about buying used is that most sellers have already done the research for you and found out what makes a good boat in terms of quality and performance. You'll also save yourself from having to pay for all those repairs after first use!

Conclusion

Pontoon boats are highly versatile boats and depending on your goals, the price may vary greatly. Since they are so versatile, some of the goals may overlap, increasing our overall estimates. We hope you now have more direction while making your decision on what type of pontoon boat is right for you.