In some cases, delivering a pontoon boat, even a mini pontoon boat, can cost almost as much as the boat itself. So, we decided to design an entire line of pontoon boats that I could ship for free.
I launched the first Pond King Pontoon Boat nearly 25 years ago. Since then, I've been looking for better ways to help folks get more boat for their money - first by innovating boat design to provide more fishing space, then by utilizing different materials to reduce the amount of time people spent on maintenance, and now introducing DIY and modular boats that can ship for via freight.
Pond King Deck Boats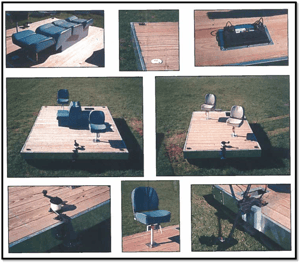 The first Pond King Deck Boat was a pretty simple boat: a wooden deck built on a welded steel frame, secured to dock floats. It wasn't fancy, but it was way more stable than a Jon-boat or even a V-hull, and very low maintenance ... but awfully heavy and not exactly maneuverable.
We offered the Deck Boat in two sizes and equipped it with a motor mount, battery receptacle, and two swivel seat mounts. With lots of room for casting and optional accessories, these boats became popular with local fishermen almost immediately.
Very quickly, I realized I could make an even better fishing boat: one that was even more durable, lower in maintenance, and considerably more maneuverable.
The Pond King Pro Aluminium Deck Boats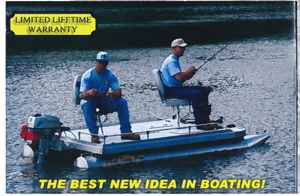 The original Deck Boat was a great foray into the fishing boat market, but I didn't really like the wood deck because I knew it had a relatively short lifespan on water, and the dock floats weren't very conducive to getting the boat around. To solve both these problems, I decided to make an all-aluminum deck and replace the floats with pontoons. But I couldn't find the right-sized pontoons anywhere: everything on the market was either made from too light a gauge or was too big or too small for the deck size I had in mind. To solve that issue, I bought my own roller so I could make the ideal size pontoon for the Pro.
The other thing I had heard from our customers was that they loved the versatility of the original Deck Boat because they could use it as a fishing boat or as a swim dock. When I introduced the Pond King Pro, I was sure to include lots of options; tackle storage, a sliding ramp that allowed people to get on and off the boat without stepping in mud, or so they could use their boat as a dock, and an optional duck blind that turned the Pro into a duck hunting pontoon boat. With an all-aluminum frame and pontoons, folks could take this boat home, put it on their pond or lake, and not have to worry about covering it or storing it. The Pond King Pro was and still is, an incredibly durable, low-maintenance, stable, highly-maneuverable, and versatile fishing pontoon boat.
A Full Line of Small Pontoon Boats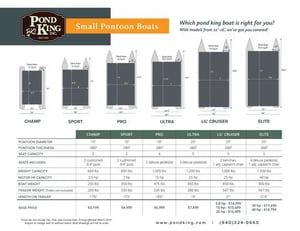 Because of the popularity of the first Pond King Pro, I decided to expand our line of small pontoon boats to offer you, our customers, a wide variety of boats with different budgets, capacities, and uses in mind, while never sacrificing quality. You can see a lot more detail on their individual pages on the website, but this is how I think of our boats.
The Champ: (used to be the Rebel XL) I like this boat not just because it is a handy little two-man fishing boat, but because it easily converts to a hunting boat when you add the optional duck blind.
The Sport: With almost 15 sq. ft. more deck space, and longer pontoons, the Sport can handle more gear and bigger bodies of water than the Champ so it's a pretty nice boat if you're just getting into bass fishing.
The Pro: This is our most popular boat I think because while it is still small, it can accommodate four fishermen and their gear on mid-sized lakes and it also fits into a lot of folks' budgets.
The Ultra: I really think of this boat as the ultimate family bass fishing boat. It's got an 80 sq. ft., non-skid aluminum powder-coated deck with 7" kick rails, and a seating capacity of 5. It's a great boat for the young family that likes to fish together.
The Lil' Cruiser: I know not everyone fishes ... so I designed this boat to be our version of a luxury cruiser. It comes with lots of standard features that are all about hanging out with friends and family on lakes of almost any size.
The Elite: While the Ultra is a great family fishing boat, the Elite is the boat for the guy who is a pretty serious bass angler and is always the one taking his friends with him.
Do-it-Yourself Mini Pontoon Boat Kits
This leads us back to the original question: "Why Build a Pontoon Boat with Four Pontoons if Just Two Will Do?" The answer is that the cost of delivery was becoming cost-prohibitive for some of our potential customers and I wanted to find a way to make Pond King Pontoon boats available to more people. Since the length of the pontoons was what made this size boat oversized, I figured out that if I used two shorter pontoons, the effective buoyancy on the water was essentially the same as one, but now I didn't have an oversized product to ship. That's why I decided to use four pontoons instead of two: Because now I can ship the pontoon boat kits via freight almost anywhere in the continental U.S. at a much better rate.
| | |
| --- | --- |
| DIY Pontoon with 4 Pontoons | The Champ with 2 Pontoons |
While the DIY kits are comparable in size to the Champ, the DIY kits all have a wooden deck; if you get the True-do-it-yourselfer, you'll get 4 pontoons, and a materials list with instructions to assemble the deck (you'll need to purchase all the materials yourself). If you get the minimal assembly, we'll ship the 4 pontoons, plus a fully-constructed deck and all the hardware to attach it to the pontoons. By designing the DIY kits this way, I can now ship a two-man, DIY boat kit to any address in the continental U.S. That makes this boat a really affordable, durable, low-maintenance option for anglers across the country.
The Patriot Two-Man Pontoon Kit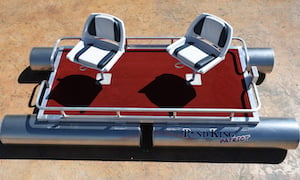 Like the DIY kits, the Patriot can ship at a better rate because the pontoons aren't oversized. But, with this boat, I wanted to do something special to celebrate Pond King's 25th Anniversary so I decked this boat out in red, white, and blue. It is a really sharp-looking boat, which I like, and with an aluminum-framed, marine-grade wood and carpeted deck, it is also highly durable, stable, and maneuverable.
A Modular, One-man Fishing Pontoon Boat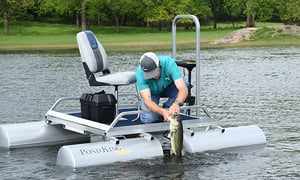 The Rebel is perhaps one of the coolest boats I've come up with and I think its gonna be a game-changer, just like our first all-aluminum boat was. I say that because I think this one-man pontoon boat is going to appeal not just to folks who already get the benefit of a pontoon boat, but I think kayak fishermen are going to want to take a good look at this boat. It offers some of the same benefits of a fishing kayak: it's affordable, highly transportable, easy to store, low-drafting, and, with its electric motor, quiet. What makes this boat different from a kayak is that it is easy to get on and off and it is very stable. And, the Rebel ships via ground anywhere in the continental U.S. We also offer a lot of color options on this boat, so you can really make it your very own, one-man fishing boat.


---
Pond King's mission has always been to help more people have more and better quality outdoor experiences with family and friends. With the introduction of these mini pontoon fishing boats that can be easily shipped, I hope to see anglers of all ages on Pond King Pontoon Boats popping up all over the place, making memories that will hopefully last as long as our boats!
---