When we build our boats, our primary goal is to make sure that you spend as much time on the water as you can and as little time on maintenance as possible. But, there are a few things you may want to do to prepare your boat for the winter - or really any extended period of non-use.
Preparing Your Pontoon Boat for Winter
Because we make the pontoons from welded aluminum, there's nothing you need to do to those. However, some people ask how to clean the pontoons. We recommend a product called Shark Hide, but if you feel like they need cleaning, we suggest doing that in the spring, so they look nice and fresh for the coming boating season. That also goes for the skid-resistant, powder-coated tongue and groove decking - there's nothing to do to prep them for winter. You just may want to give them a good scrub in the spring with a gentle brush and detergent.

If you live in an area where your pond or lake will experience a hard freeze, we recommend you pull the boat from the water, especially if you have a livewell or other below deck storage. If you are just going to store the boat on the shore, you may want to consider putting it up on supports, so the aluminum isn't sitting in the mud, which could cause discoloration, but it isn't required.
Stowing the Furniture
When you are getting ready to put your boat up for winter, it's a really good idea to give the furniture a deep clean first. The best way to clean your seats is with a simple 1:1 mix of mild soap and water. Simply clean the seats with soap and water, rinse with clean water, and dry thoroughly. If you've got removable pedestal seats, we recommend you remove those and store them out of the weather and away from pesky rodents. If you've got fixed pedestal seats, cover them. And if you've got bench seats, we suggest replacing anything you have stowed in them with a lining of dryer sheets to prevent any critters from nesting inside. Of course, if you are leaving the boat outside, you should cover the bench seats, too.
Trolling Motor and Battery Care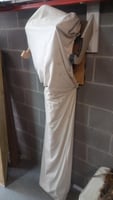 Whenever you're not going to use your trolling motor for an extended period, it's a good idea to remove the propeller and wash away any debris. If you are putting the motor away for the winter, give it a final wash with clean water, paying extra attention to where the propeller attaches to the motor. If you can, the optimal thing to do is store the trolling motor out of the elements, keeping it dry. As for the battery, after you charge it completely, you'll want to disconnect it and keep that where it won't freeze or get wet. To extend the battery's life, you may want to consider putting it on a trickle charger to keep it from draining - or at least hit with a charger once a month. According to Interstate Battery's FAQ, a fully charged battery will not freeze unless the temperature reaches approximately 75° F below zero F (-60° C). But if discharged, it can freeze at 15° F (-9° C). Keeping a battery fully charged will prevent it from freezing.
Winterizing the Outboard Gas Motor
We mainly sell Tohatsu outboards with our boats, and they have in-depth instructions on how to winterize your outboard motor. They break those into two categories: 2 to 6 hp and 8 hp and up. The main difference in how you'll winterize your Tohatsu based on size is the water source you'll need for flushing, but for all their motors, the steps they recommend include: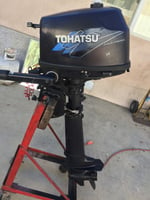 Flushing (cleaning the engine)
Fogging (draining the fuel system)
Treating the outboard with "fogging oil"
Greasing the propeller shaft
Changing the gear oil
Greasing all moving parts
Protecting the exterior
Storing the engine vertically in a dry area
Because how you winterize your outboard can affect the warranty, we highly recommend visiting the Tohatsu website for a more detailed explanation of these steps.

As you can see, the boat itself requires very little preparation. But, to get the very most from your investment, you'll want to take some care while putting it up for the winter in hopes that all the "add-ons" will last as long as the boat!

If you have any questions, don't hesitate to give us a call or shoot us an email. And, as always, we look forward to seeing y'all down at the pond!