As Pond King prepared for its 25th Anniversary, owner Brad Metzler introduced a new pontoon boat that ships for free throughout the continental U.S. Shortly after doing so, a Patriot Pontoon Boat was ordered for a WWII Navy Veteran, Daniel Terhune. Inspired by Daniel's story, Brad announced Patriots for Patriots - a random drawing in which one patriot from each of the five branches of the U.S. Military would win a Patriot Pontoon Boat. Here are those five winners, plus a few other servicemen and women Pond King would like to recognize.

The Five Patriots for Patriots Grand Prize Winners
Before we announce the winners, we'd like to take this opportunity to say thank you. Thank you to all the men and women who served. And, thank you to everyone who entered a loved one into this contest and shared stories with us. Everyone who entered or was entered is deserving of our thanks and recognition.
We'd also like to thank the Patriots for Patriots sponsors. When we launched the program, Bass Assets, Crappie Brothers, Whisker Seeker Tackle, and Xcite Baits immediately got on board with us. Once we drew the winners, we shared your stories, and the following sponsors helped make it possible to deliver each of these five boats with an extended railing package, power package with Minn Kota trolling motor, and a trailer. Thank you Petrofllex, Mandel Metals, Minn Kota, Eastern Metal, Interstate Batteries and Pieman Productions. Please see a complete list of sponsors below.
And now, here are the five grand prize winners.
Air Force: Major Thomas Hersch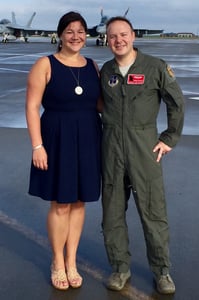 Major "Tommy Boy" Hersch nearly didn't make it home from his final combat deployment. His flight from Qatar to Afghanistan had to be diverted into Pakistani airspace due to unforeseen circumstances involving an unfriendly nation. Pakistani air traffic control demanded that they route back to their flight pattern. When they did so, they flew into a lightning storm that caused the jet to drop 3,000 feet in about a second. Knowing that every day is a gift, Tommy plans to share that gift with anyone and everyone he can.
Tommy's dad is an avid fisherman who instilled the love of fishing in his son. While his dad doesn't get around like he used, he and Tommy still fish together. The two volunteer for Live Well Go Fish - a nonprofit organization that assists disabled veterans with fishing trips. Hersch resides with his lovely wife, Libby, in Georgia.
Army: Captain Chad Dieter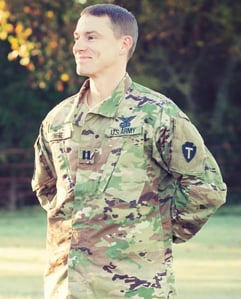 How Chad Dieter has found time to serve his country is a mystery. Dieter has been married for 12 years to his high-school sweetheart, Alli, with whom he shares five children ranging in age from 7-months to 11-years old. Somehow, between being a husband, father, avid outdoorsman, involved community member, and active parishioner for his local church, he has also managed to be active duty in the army for the past ten years with no plans to stop in the foreseeable future.
Dieter was deployed to Iraq and is now stationed in Grand Prairie, Texas where he is the Officer In Charge. To the delight of many residents and high school students, Dieter is known to do things like fly his Chinook Army helicopter to the school on Veterans Day. His family hopes this boat will be a way for him to share his love of the outdoors with his children. Watch the delivery video.
Coast Guard: Chief Elaine Jergons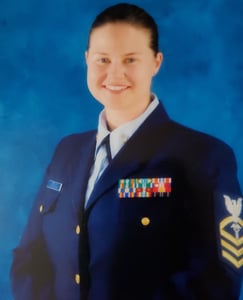 Jergons served in the Coast Guard on the USCGC STORIS in Kodiak, Alaska, as an Independent Duty Corpsman. The STORIS was a light icebreaker that served in the United States Coast Guard for 64 years and 5 months, making her the oldest vessel in commission with the Coast Guard fleet at the time of her decommissioning, of which Jergons was part.
Jergons now hails from Pennsylvania. She and her sister are both disabled veterans. They have been fishing buddies all their lives - and refer to themselves as the Castin' Coasties. At one point, her sister had a bigger boat but had to sell it because it was too much to maintain with their disabilities. The Patriot will be perfect for them.
Marines: Sergeant Jonathan Metzger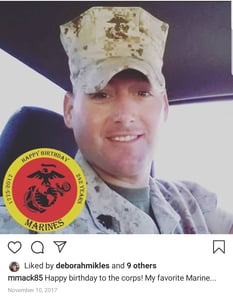 As part of the 3rd Battalion Amphibious Assault, Metzger served in OEF and OIF. He deployed a total of 3 times: twice to Iraq and once to Afghanistan. His "non-combat" deployments include Thailand, Okinawa, and Korea. But Metzger's life post-military is the extraordinary part of his story.
Like many veterans, Metzger has PTSD, and despite being 100% disabled, he manages to show up every day to support his family, to the fullest extent of that word, with a smile. What makes that so incredibly inspirational is he does this for his 2-year old son, who suffers from a severe heart condition and has already had several major surgeries. According to his friends who entered him into Patriots for Patriots, "Metzger is now conquering life after the military … by still kicking butt and taking names." Metzger, his beautiful wife, and son, live in Oklahoma. Watch the delivery video.
Navy: Petty Officer 2nd Class Leonard Bauman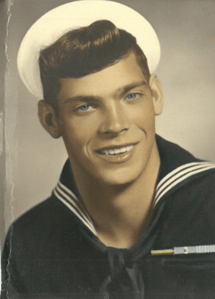 Leonard Bauman was a Seabee in the Korean War, attached to the Amphibious Construction Battalion One Unit. Bauman and about 60 others were responsible for building an airstrip on the island of Yo Do on the 40th Parallel.

From a tank landing strip (LST), Bauman's unit launched and built a road to get all equipment to the island. There was some enemy artillery fire, but they were protected by a battleship, some destroyers, destroyer escorts, and the LST. All the men in Bauman's unit were awarded medals and accommodations, and, incredibly, none were injured. The story of Len's unit can be seen in a segment on Oliver North's War stories.

While in the war, Bauman received letters from a friend, one of which included a photo of his friend's cousin, Betty. Bauman was immediately smitten, and upon returning from the war, married Betty and has remained in love for the past 68 years. He and Betty live in Arkansas. Watch the delivery video.

As a civilian, Bauman has inspired many generations as a teacher, first in the school system, and then in the fishing industry. While working for Pradco Outdoor Brands, Bauman had the opportunity to teach anglers of all ages fishing techniques and was also an integral part of a national campaign to clean up our streams and recreational areas.
---
Other Patriots for Patriots Winners
All servicemen and women deserve our gratitude and grateful we are. But, when we started reading the stories that were shared along with many of the entries into Patriots for Patriots, we realized we wanted to be able to do something for more of the entrants. So, we'll be sending a collection of fishing gear to each of the following patriots.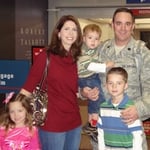 Air Force Lt Col Trent Fallon
During his 20 year Air Force carrier, Fallon deployed to Oman, Kuwait, and Iraq. Fallon grew up fishing the Big Sioux River in Sioux Falls SD and the Lewis and Clark Reservoir on the Missouri River. As a kid, he worked at a local YMCA Day Camp for nine summers, where one of his favorite things was teaching young campers how to fish. Wherever he and his family were stationed, they always found the time to fish.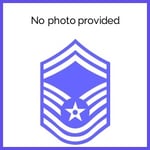 Air Force E8 Miranda Beyers
Beyers joined the Air Force as active duty at the age of 18 in Sep of 1995 and then joined the Air Force Reserve in 2002 and is still proudly serving.
Beyers' husband also served in the Air Force for 34 years. Now, he is suffering from PTSD. Like many veterans with PTSD, he finds great relief from getting out on the water and fishing.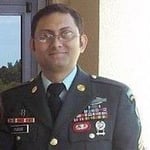 Army E7 John Fleece
It had always been Fleece's dream to be a Green Beret. His wife was so inspired by his drive returned to school after 14 years off and completed her degree.
Fleece and his wife have an autistic son, and fishing is not only a way for the two to bond, but also is an important part of Fleece's son's therapy.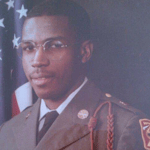 Army E4 Paul Newman
Newman served in the eighties in field artillery. Now, he is a disabled veteran who can no longer work because of his injuries, which in turn causes depression. Compounding the issue, Newman lost his mother when she was only 52. She was paralyzed and wanted to be cremated and put in the water to represent being free. Being on the water creates a strong connection to the memory of his mother.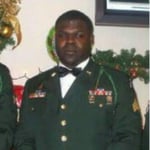 Army E5 Jerard Malina
The thing Malina loved most about serving was the idea that his countrymen and women were able to sleep comfortably, knowing they were protected.
Like many veterans, Malina now suffers from PTSD but finds some relief when he is able to get out on the water and experience the peace and tranquility of nature.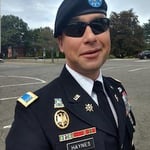 Army CWO William Haynes
Haynes was nominated by several people, all praising his service to his country, loyalty to his family, and dedication to his community, as demonstrated by the work he does as a volunteer for the Medal of Honor Host City Program.
A 20-year veteran, Haynes received a Bronze Star for his service in Afghanistan.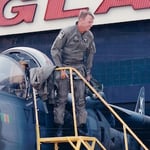 Marine Major Jeff Thompson
A 23 year veteran of the Marines, Thompson served in both the Vietnam Nam and Gulf Wars. Thompson is 100% disabled as a result of his service. A lifetime member of the Paralyzed Veterans of America, fishing is one of his favorite ways to pass the time on his 10-acre lake.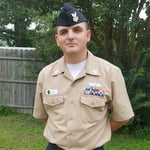 Navy PO1 Christopher Eckert
Eckert, who was nominated by friends and family, joined the Navy straight out of high school in 2003. Now Eckert is an Electronics Technician but takes on additional roles. Everyone who nominated him said he is a loving family man, an awesome ship buddy.
Thanks to our Patriots for Patriots sponsors
We feel fortunate that Pond King was in a position to make Patriots for Patriots happen. But, we could not have done it without the help of some very good friends. When you have the opportunity, please show the #Patriots4Patriots sponsors a little love, too.