It's a very exciting time in your life. You've acquired a piece of property out in the country and it's going to be your getaway from the hustle and bustle of city life. The property seems to have everything you always dreamed of – tall trees surrounding a house on a hill, rolling hills with lush prairie grass where you can see deer and other critters roaming freely, and the best thing of all, a small pond in your backyard.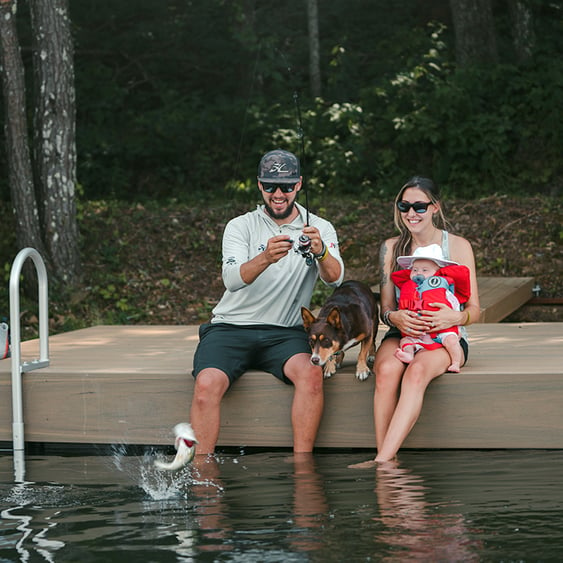 The pond is stocked with fish you can see jumping in early mornings, and you're imagining taking the kids or grandkids fishing and seeing their faces light up as they reel in their very first catch. But access to the water is difficult and sometimes scary with the vegetation around the edges and risk of snakes lurking in the tall grass. You need something you can walk out on and easily access more of the pond for fishing. A floating dock is a great addition to your private pond, but with so many different types out there, how do you know which one you need? Pond King offers two types of floating docks for ponds: aluminum floating docks and steel floating docks. Let's discuss why we offer two different types of floating docks for ponds, and what you should consider when trying to determine which is best for your pond.
Consideration #1 for Steel vs. Aluminum Dock: Your Pond's Location
We began building galvanized steel floating docks for ponds in 1995. The steel docks are all welded together, so they're built in full at our location, and then loaded up on a trailer and delivered and installed at your property. Since the 10x12 and larger steel dock sizes are considered oversized loads, we have to get an oversize hauling permit per state traveled through to deliver them to your location. Because of this logistical component, and the inability to break the steel docks into smaller pieces for shipping, we are limited to Texas and Oklahoma for our steel dock deliveries.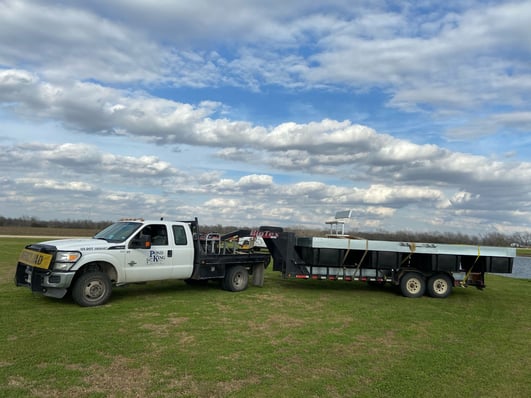 Wanting to be able to service customers with ponds in locations outside of Texas and Oklahoma, we designed and started building the floating aluminum docks. Since they're constructed of aluminum, they are lighter weight than the steel docks, and we can build them so they can be broken into smaller pieces (turning it into a modular floating dock), shipped or delivered to your door, and then assembled at your pond and self-installed. Like the steel floating docks, we can also offer delivery and installation on the aluminum floating docks if you're located in Texas or Oklahoma.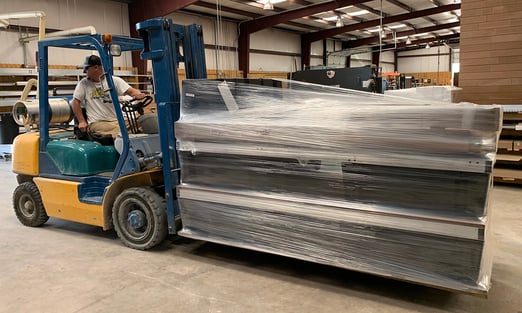 So, if you're in Texas or Oklahoma, you could choose from either the steel or the aluminum dock. If you're outside of those two states, you need to be looking at the aluminum floating docks. Now, let's see what other factors contribute to the decision of the right floating dock for your pond.
Consideration #2 for Steel vs. Aluminum Dock: Construction Materials
Often people want to lean toward the aluminum floating dock because they think the aluminum will last longer and won't rust. While it is true it'll last a long time and won't rust, the same is also true for the galvanized steel on the steel dock. The galvanized parts have an 80 year life-span, and none of the steel is actually touching the water, so you don't have to worry about it degrading quickly. I'll often hear from our customers, "Well, I'll be long gone before that!"
As far as the other materials used to build the docks, the polyethylene encapsulated floats and composite decking are going to be the same for either option.
Consideration #3 for Steel vs. Aluminum Dock: The Amount Your Water Level Fluctuates
To hinge or not to hinge, that is the question. This is a big factor when deciding which option of floating dock to choose. If you're on a small pond and the water level fluctuates less than 2 feet, then the DIY Floating Dock Kit will work for you. The reason this aluminum dock doesn't allow for any more fluctuation is because it's not actually hinged between the dock and the walkway, and it's bolted to a base that's concreted into the bank. We had to build it this way for stability on these smaller sizes.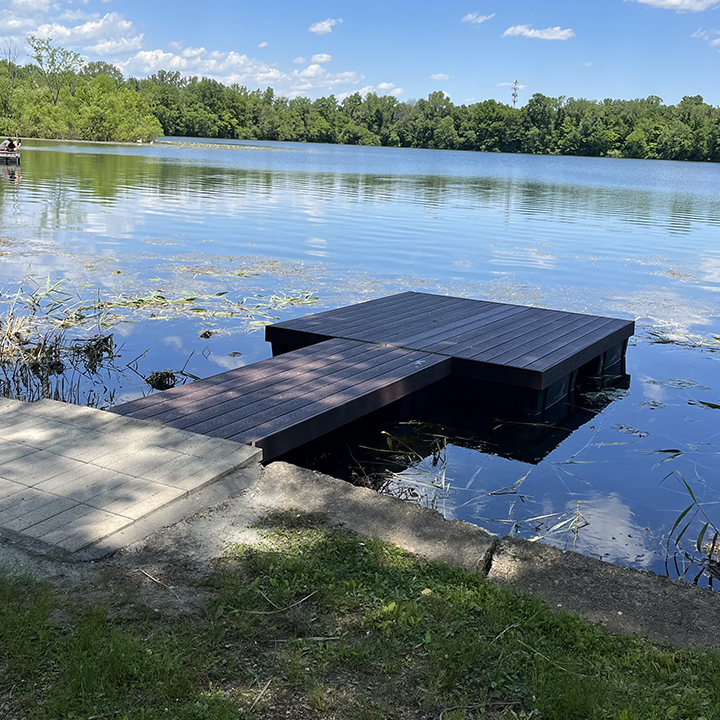 The aluminum-framed floating docks are built with a hinge in between the dock and walkway, and it is bolted to a staked base at the bank without concrete. For this reason, the aluminum floating docks will accommodate up to a 4 foot water level change.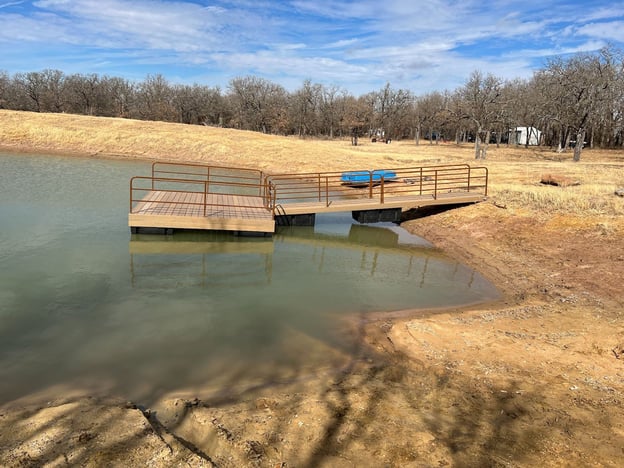 If you're dealing with water levels that can change up or down around 10 feet (very common in Texas and Oklahoma), then a steel dock is for you. It is built with heavy duty hinges between the dock and walkway, more between each of the walkways, AND another set between the walkway and base that's concreted into the bank. As long as there's water under your steel dock, it will always be level, and this multi-hinge system will allow your floating dock system to adjust with the rising and falling of the water level.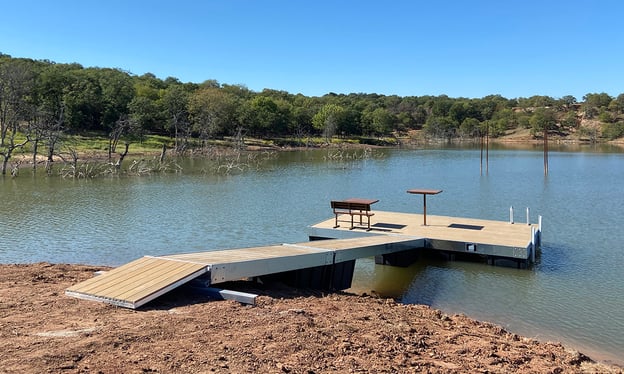 Consideration #4 for Steel vs. Aluminum Dock: The Size of Dock and Length of Walkway Needed
The other thing to consider when you're looking at a steel dock vs. an aluminum dock, is the overall size and length of the walkway you're needing. Because of the construction of the DIY Floating Dock Kit, the maximum walkway length is about 16 feet and on the aluminum floating docks, the maximum walkway length we offer is 20 feet. For a deeper explanation on how to choose between the DIY Dock Kits and the Aluminum Floating Docks, check out this blog.
The steel dock frames allow us to offer a standard length of 32 feet. It is also possible to build a steel dock with a longer walkway, although it would require additional support that is different from our standard setup. We'll save that discussion for another blog.
If you're not needing to get any farther into the water than about 30 feet, then the floating aluminum dock will work for you. If your pond is very shallow, and doesn't get into deeper water until far away from the bank, you'll want to go with a steel dock.
So, now we know about the walkway lengths, but what about the floating dock sizes at the end of the walkway? Again because of the construction, we are able to build larger dock sizes on the steel docks than we are on the aluminum floating docks. We are also able to offer a roof or awning covering part of the dock on the steel docks. This is our Deluxe Steel Floating Dock line. If you're in Texas or Oklahoma, having the shade covering makes a big difference when you're trying to sit out on the floating dock on a hot summer's day. And don't worry, we leave about 6 feet at the front of the deluxe steel dock without the awning covering it so you can easily cast without hitting the roof and catch that big fish!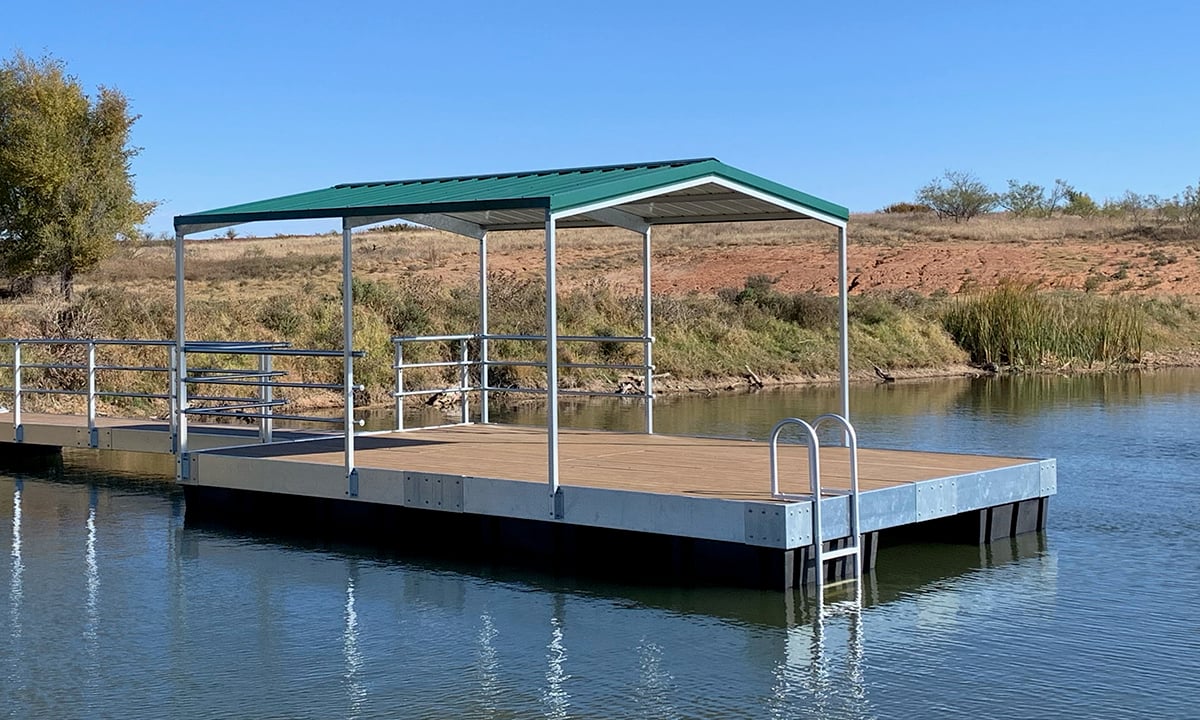 Consideration #5 for Steel vs. Aluminum Dock: Aesthetics
Didn't your mother ever tell you looks aren't everything? Or are they? We've heard from some customers that our aluminum floating docks tend to look a little less "industrial" than the steel floating docks. The reason they say this is because we are able to cover all of the metal of the aluminum frame with decking boards, so it all looks the same and tends to blend in with nature a little better.
On the steel floating docks, the framing is built in such a way that we are unable to skirt the sides with decking boards, so you do see the galvanized steel framing. If you choose to get railing on the dock, it is also made of galvanized steel so it all matches nicely.
If aesthetics is your final determining factor, it's going to come down to personal preference more than anything. Does one look better to you than the other? Unfortunately, I can't help with that decision.
Uffda, that was a lot of information, I know. (Sorry, I am still from Minnesota!) Hopefully this has helped you get a better understanding of which floating dock is going to be best for your pond depending on your:
Pond's location and water level fluctuation

Length of walkway and size of dock needed

Aesthetic preference.
Congratulations! You're one step closer to having the perfect floating dock to help you enjoy your time spent "Down at the Pond".
If you've still got questions or would like some assistance navigating these choices, I'm happy to help walk you through it! You can give me a call at the office: 940-668-2573 or email me at jill@pondking.com.