The main purpose of livewell additives is to relieve stress on the fish, ensuring that your catch counts at weigh-in and increasing the survival rate of the fish when released.
As a follow up to our blog post "Livewell Fish Health," in this post, we will take a look at a few of the additives and treatments available for you to add to your livewell to improve the condition of your catch. The main purpose of livewell additives is to relieve stress on the fish. Stress is caused by many factors when a fish has been caught and placed in a livewell. A few of the factors additives aim to treat include ammonia build up in the water, fish injury from getting hooked, or removal of slime coat. Here are some suggestions about which additives help and why.
While there are many different brands of additives, I wouldn't say any one of them works better than the others since I have not been able to do a direct comparison between them all. However, I can say that I have seen positive results from each treatment I have tried. That said, here are a few of the common livewell treatments you should consider.
G-Juice (U2 Pro Formula) by TH Marine

Rejuvenade by Bass Medics

Catch and Release by Sure Life

Please Release Me by Sure Life
I suggest these products because they all target the main stressors present in a livewell environment with the addition of some added benefits. First, they detoxify nitrites and remove ammonia, chlorine, and other heavy metals that can become toxic to fish. These also induce coagulation of blood to stop bleeding of an injured fish and help to replenish slime coats to reduce susceptibility to parasites. The added benefits offered include adding electrolytes to regain energy for release, buffer pH, and calm your fish.
As a side note, it is very important to make sure whatever dyes or ingredients are non-toxic to humans and aquatic organisms.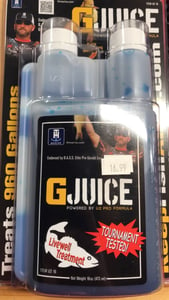 I would confidently suggest any of the above products to anyone looking to try a new additive. My personal favorite is G-Juice because it is a liquid solution rather than a granular and it comes in a bottle very similar to that of Stabil, where you can easily measure out your dose. Ensuring the proper dosage for any additive is critical to their effectiveness, so it is important to know the volume of your livewells and read the directions on the bottle. As with any additive, you will need to replenish what is lost throughout the day due to your livewell "Fill" pumping new lake water in and diluting your solution in the livewell.
Following the use of any of these products you may notice the fish often rest on the bottom of the livewell with little movement. Don't worry - that is absolutely normal. These products have a calming effect which help prevent the fish from thrashing around in the livewell and possibly injuring themselves. If you happen to notice fish thrashing after you have treated your livewell earlier in the day, this may be a sign that it is time to replenish the additive.
Using these proven additives in conjunction with proper livewell management will result in healthier fish at weigh-in and increase their survivorship following release back into the waterbody. If you have any follow up questions about any specific treatment/additive, feel free to email me at ethan@pondking.com and I will do my best to help.
See y'all down at the pond!